Sunday, October 30, 2022 - Sunday, November 20, 2022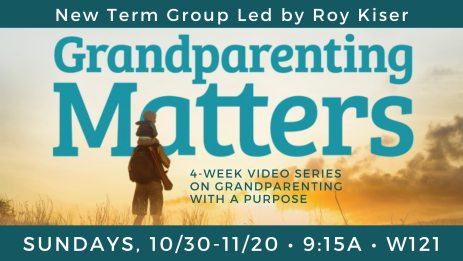 For the Lord is good;
His steadfast love endures forever,
and His faithfulness to all generations.
PSALM 100:5
GRANDPARENTING WITH A PURPOSE
DATE: Sunday, October 30 - November 20, 2022
TIME: 9:15 AM - 10:15AM
LOCATION: Room W121
SPECIFICS: Video series on Grandparenting by The Legacy Coalition

Grandparents play a unique and profoundly influential role in the lives of their grandchildren, but often grandparents themselves don't understand their enormous potential to influence generations! This video series is full of inspiration, ideas, and tools to help you realize your potential to grandparent in a meaningful way.

WEEK 1 | October 30 • What is the Biblical role of a grandparent?
WEEK 2 | November 6 • How do we pass the faith to future generations?
WEEK 3 | November 13 • How do we love our grandkids in scary times?
WEEK 4 | November 20 • How do we pray & read the Bible with our grandkids?
Questions? Contact Roy Kiser.