Monday, July 25, 2022, 9:00 AM - Thursday, July 28, 2022, 1:00 PM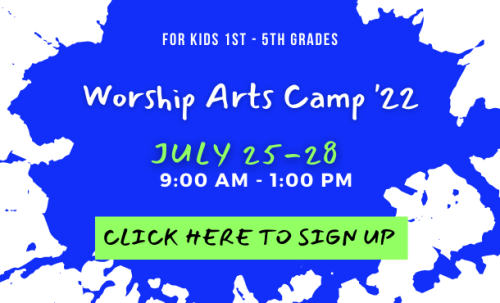 We are so excited that Worship Arts Camp is just around the corner!
DATE: Monday-Thursday, July 25-28 • We are going to have four action-packed, creative, worshipful, & fun-filled days together
TIME: 9:00 am - 1:00 pm
LOCATION: Children's Learning Center
WHAT: Each day, we will explore & express the many ways that God created us to worship Him. There will be singing, dancing, painting, drawing, sculpting, designing, creating, inventing, exploring & expressions through drama.
COST: $10 & includes a T-Shirt
NOTE: All children must have completed 1st grade and need to bring a lunch with them each day
Spots are limited, so make sure that your kids don't miss this awesome opportunity!!!!
Our theme this year is "LOUD," inspired by Psalm 98:4.
So, let's get LOUD!