Wednesday, May 24, 2023 - Sunday, June 18, 2023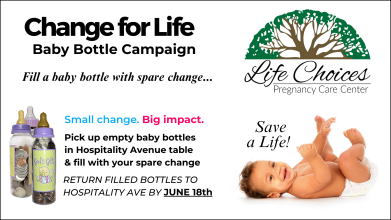 We are participating in Life Choices Pregnancy Care Center's Baby Bottle Campaign Fundraiser.
Bottles are available for pick up through June 18.
How to Participate:
Take a bottle from Hospitality Ave or get one in our Church office.
Fill the bottle with coins, cash, or checks.
Return the Bottles to the church office no later than June 18th.
By participating in this campaign our Church is enabling Life Choices to continue the work entrusted to them by God. You can make a difference in our community simply by donating change for change!
CLICK HERE for more information on Life Choices Pregnancy Care Center.