About Our Weekday Education Program:
First Baptist Church provides two weekday preschool programs: Mothers' Day Out and Kindergarten. We are committed to sharing God's love daily with every child through our words and actions.

Preschool (3K & 4K) & Kindergarten (5K) Programs:
In our Preschool and Kindergarten we offer a variety of class options available for 3-year-olds from 9:00 am until noon and 4 & 5-year-olds from 8:00 am until noon, September through May.
Early care and after school care is available from 7:00 am - 5:30 pm.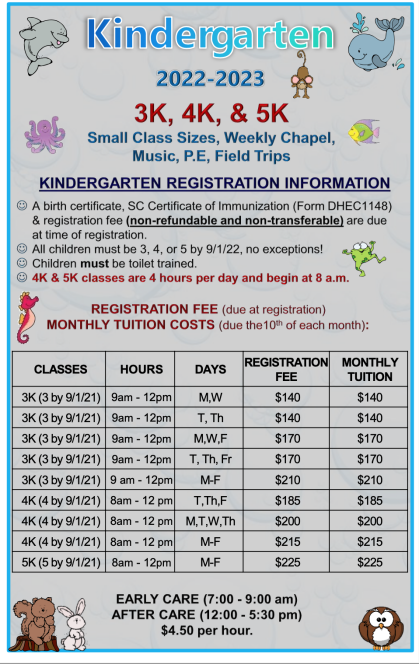 Our Mothers' Day Out classes are provided for infants through 3-year-olds Monday through Friday from 9:00 am until 1:00 pm.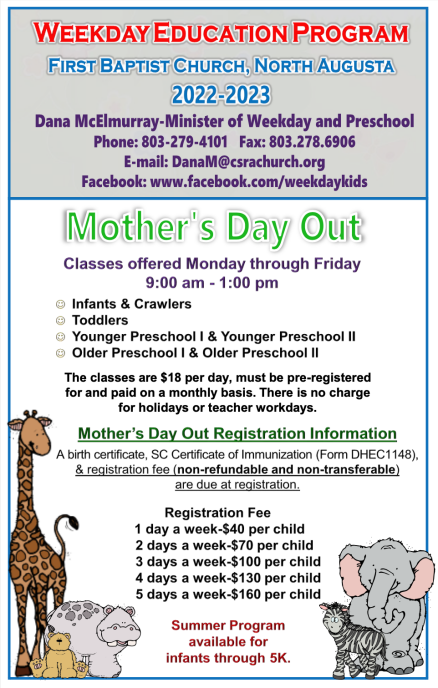 Be sure to check us out on Facebook: @weekdaykids

Please call Director Dana McElmurray or the Assistant Director, Tammy West to find out the classes that have openings available. 803-279-4101.
For more information on our Weekday Education Program, please contact .